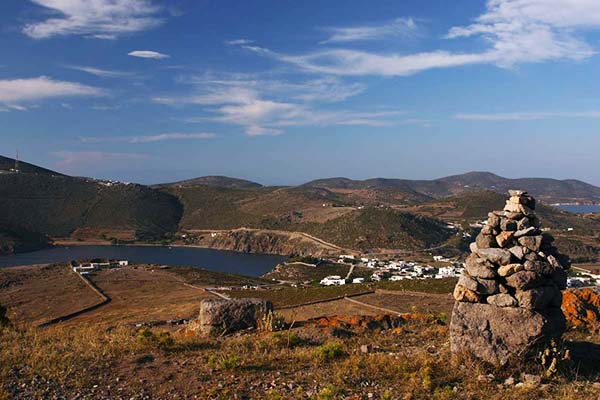 Archeological site of Kastelli
As a naturally fortified hill, Kastelli rises west of Skala and north of Chora and offers clear view of three bays: Skala (to the east), Chochlaka (southwest) and Merika (to the north), while on the horizon there are the islands of Naxos and Ikaria, factors that explain the choice of the ancient inhabitants of the island to build their citadel here.
Today, impressive remains of the fortification dating to the end of the classical period (late 4th century BC) are kept in Kastelli and are visible while ascending Skala. Significant parts of the fortification and rectangular towers are preserved to a large extent, while the ruins of the southeast tower reach the height of 3.5 m. In the northwest tower (a little higher from the small church of Saint Constantine, who seems independent of the main fortification) the gate with a ladder section of six steps are also rescued.
---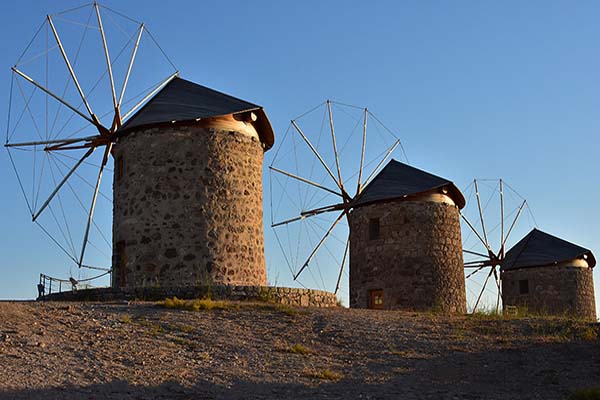 The Windmills
Built in the east of the Holy Monastery of Patmos, on the top of the hill with view of the sea, the three windmills of Chora gave their name to the neighboring district of Mili. From the moment of their restoration in 2010, they can be characterized as another jewel of the island. Windmills (two of which date back to 1588, and the third was built in 1863) fell into disuse in the late 1950s, when the industrial milling replaced the traditional production. The mills in Patmos, as well as in whole Europe, were deserted.
Today, the first mill reopened as a flour mill, with the aim not only to offer its visitors the image of the traditional flour production technology, but also to assist in the revival of the traditional crafts of flour man and baker and the production of products of the past. The second windmill, because of the replacement of the grindstone by a generator and the installation of a metal rolling beam with mechanical brake for the waterwheel, is able to generate electricity from wind power. Finally, the plan for the third windmill is water production.
---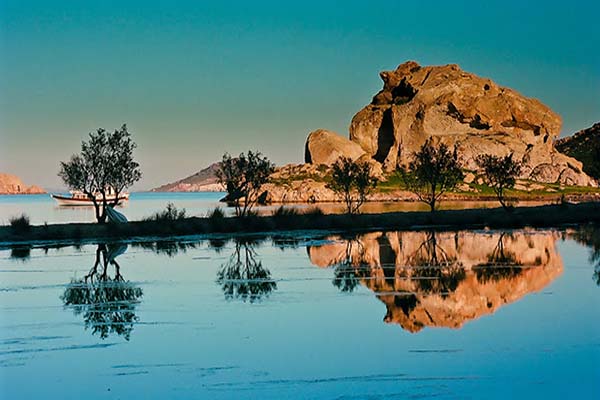 The Rock of Kallikatsou
According to the legend, the Stone of Kallikaltsou is nothing but the curse of a mother that was really effective: Lured by the beautiful sea of ​​the bay, having just received Communion, a girl wanted to dive in its water. Her mother forbade her to do so, but she insisted, causing the anger of the first. Furious, she shouted: "Go and become stone".
Geologically, the Rock of Kallikatsou is a volcanic rock since the era of volcanic activity in the region (four million years ago), that was formed by the splice of many volcanic bullets, while its figure proceeds from the way of connection of the materials of the basaltic lava from which it came.